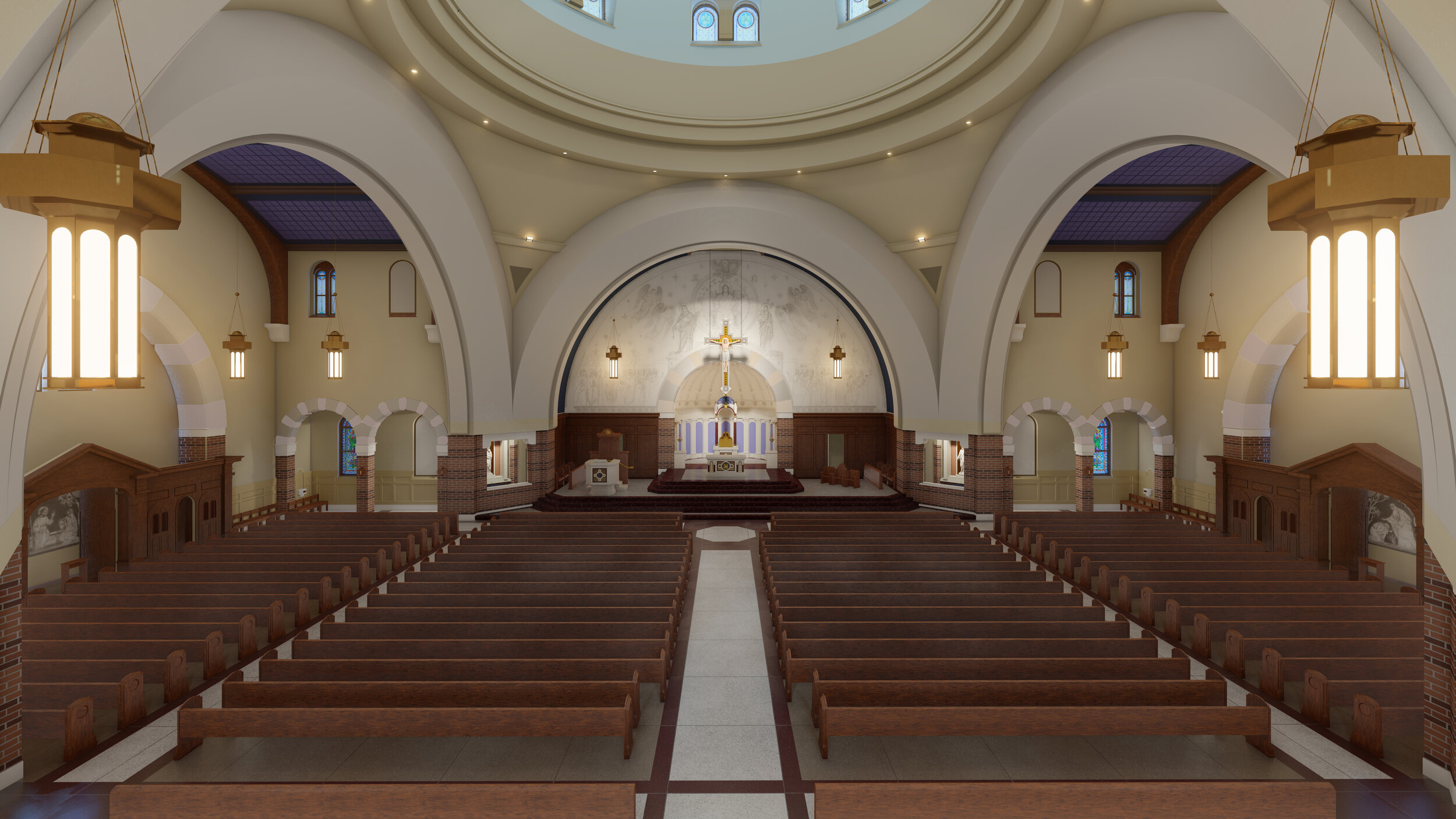 Learn more about the New Church!
Construction Photo/Video
More progress is being made every week. Check out this page to see the latest aerial photos and videos alongside explanations of the latest work.
Available Naming Opportunities
There are plenty of naming opportunities, both large and small, for the New Church. Make a lasting impact on the students in Aggieland and receive an honorarium listed in the building.
Fr. Will's Roadmap
At the start of each month, Fr. Will will sum up the previous month's work as well as give us a sneak peek of what's set to be finished in the month ahead.
Concept Art
Check out this page to see some detailed renders of the exterior and interior as well as artwork. These renderings are concept-only and are subject to change.
Beauty and Encounter Initiative
Browse our beautiful brochure that details myriad aspects of the church, showcases concept art, and more. Pleas share the link with family and friends!
The Ceremonial Groundbreaking
We were blessed to share the ceremonial groundbreaking with students, parishioners, benefactors, and Bishop Vasquez on May 19. Reminisce by visiting our photo album documenting the day.
Large Items
Rose window: $2.0 million
Pipe Organ: $2.0 million
Dome & Mary, Our Lady of Victory statue: $1.0 million
Crucifix above altar: $1.0 million
Transepts (2): $1.0 million each
Triumphal Arch: $1.0 million
Narthex: $1.0 million
Bell Tower: $1.0 million
Baptistry: $500,000
Our Lady of Guadalupe Chapel: $500,000
Six Corps of Cadets Walking to Mass at St. Joseph in Bryan statue: $500,000
Tabernacle: $500,000
Porte Cochere: $500,000
Altar of Repose: $250,000
Ambo: $250,000
Ciborium: $250,000
Prayer Garden: $250,000
Vesting Sacristy: $250,000
Statuary
David Statue: $150,000
Isaiah Statue: $150,000
Moses Statue: $150,000
Elijah Statue: $150,000
St. John Statue: $150,000
Stations of the Cross
3rd Station: Jesus falls the first time: $100,000
10th Station: Jesus' clothes are taken away: $100,000
Painted Mysteries of the Rosary
4th Joyful - The Presentation: $50,000
1st Sorrowful - Agony in the Garden: $50,000
2nd Sorrowful - Scourging at the Pillar: $50,000
3rd Sorrowful - Crowing with Thorns: $50,000
4th Sorrowful - Carrying the Cross: $50,000
5th Sorrowful - Crucifixion and Death of Our Lord: $50,000
2nd Glorious - Ascension: $50,000
3rd Glorious - Coming of Holy Spirit: $50,000
Bells for Bell Tower*
20" Bell: $50,000
*Donor to pick saint associated with individual bell
Murals
King David: $150,000
St. Cecilia: $150,000
St. Scholastica: $50,000
St. Benedict: $50,000
Other
Pillars: $50,000
Columns: $25,000
Pews: $15,000 each
Chairs: $10,000
Kneelers: $5,000
Stars: $5,000
Name on Donor Wall: $5,000

If you are interested in learning more about how you can help this campaign, please contact a member of our Development Staff:
Frank Shannon, Executive Director of Development (fshannon@aggiecatholic.org)
Lizett Hawkins, Director of Annual Giving (lhawkins@aggiecatholic.org)
You can also call us at 979-846-5717
The Ceremonial Groundbreaking
603 Church Ave, College Station, TX 77845
Wednesday, May 19, 2021
To see the full photo album, follow the link below!
Special Thanks
Bishop Joe Vasquez
Diocese of Austin
Priests in Attendance
Fr. Augustine Ariwaodo
Fr. Barry Cuba
Fr. Andrew Dinh
Fr. Ryan Higdon
Fr. Albert Laforet
Msgr. John McCaffrey
Fr. Brian Phillips
Fr. Paul-Michael Piega
Fr. Will Straten
Fr. Chris Smith
Fr. Leon Strieder
Fr. Celso Yu
Special Guests
Ed and JoAnn Davis
Co-Chairs of the New Church Campaign
Michael O'Quinn
Chair of Building/Planning Committee
Fr. Chris Smith
Associate Pastor
Fr. Will Straten
Pastor
Ruth Vanoye
Permanent Parishioner
Ryan Vaughan
Pastoral Council Co-Chair
Sam and Lynette Morrison
Benefactors
Ralph and Linda Schmidt
Benefactors
Don Stewart
Benefactor
Mark and Lisa Stewart
Benefactors
Shelley Tortorice
Benefactor
Gary and Bebe Young
Benefactors
17,000
Total estimated Catholics at Texas A&M (25% of student population)
1,600
Students participating in retreats
700
Students involved in organizations, weekly
67
Aggies who were Confirmed in 2019-2020 school year
45
Aggies who became Catholic through RCIA last year
43
Former students serving as FOCUS missionaries
18
Aggie women in religious life
9
Aggie men entering seminary each year (on average)
56
Aggie men in formation (priests or brothers)
10
Aggie women in formation
6
Aggie priests ordained last year
4,500
Typical home football weekend Mass attendance
3,700
Typical weekend Mass attendance
250
Typical daily Mass attendance
6
Days of the week Reconciliation is available
2
Former pastors who are now bishops
1
Bishops who were former students